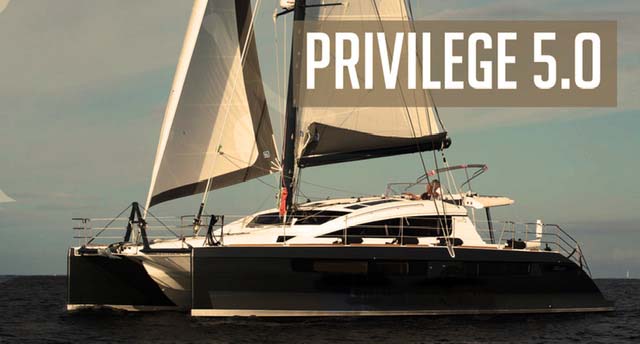 9 points
7.9 voter average
10 points
8.7 voter average
8 points
7.6 voter average
5 points
5.1 voter average
3 points
4.6 voter average
A lovely design and brand, but the price needs to come down a little, feels overpriced..
I really like Privileges. Moving from a comfortable home I want liveablity first and foremost.
I owned a privilege and they are awesome. The ONLY issue I have with this boat is the low overhang in the master cabin which prevents me from standing up. Otherwise this is a dream boat.
Rather tubby looking! Nice interior but short trampolines= not great for long passages
The laid back cruisers boat. Will get you there eventually but in comfort and style
This is a gorgeous and comfortable yacht
If I wanted a floating apartment how can you go wrong
According ARC race results performance is long waterline = big sails, so even Lagoon 560 (with some engine running) seems to win something like Catana 42. Correct me if I am wrong, but heavy cat also means less movement on waves (nice ride)?
We saw this at Grande Motte - heavy & expensive
Zatara's follow upper, those guys are having a great time on their old 5er and manage well, i would not mind this one!
I would prefer the interior helm station to face forward as oppose to the rear...
Was in love before it was obvious you can't see outward inside the cabin while underway. That's a no go for us. Performance is fine. Cost is far to high for us as well but even if we inherited 50M I would not buy the boat without being able to see from inside the salon.
We have one on order so may be a bit bias
Value for Money is hard to score for this boat. As on all luxury goods, each small improvements is super expensive. Buyers of this kind of boats probably don't have the same perception of "value" than most of us.
Far too expensive. Xquisite far better and cheaper
I've been looking at the Privileges on the used market and I think this is manufacturer for me.
Overpriced compared to competition.
If would look for a slow boat I would consider a Privilege for its built quality but a use one
The new version is supposed have a higher roof in the owners bedroom. I actually like that a French company keeps their labor local, even if that means higher labor costs.
I noticed there seemed to be steps on the door thresholds which were trip hazards. Rain shower with a hand held wand, works great in hotels but in real life I prefer a decent shower. head on a rail, far more practicable in daily use. Vis from saloon v poor. Resale values ? I bet they take a dive.
A stunningly beautiful, fully customisable boat
Beautiful boat, would love to see a forward helm and windows that you could see straight out in salon.
Boom is a bit high, not performance oriented so less safe, beautiful build and materials but you pay for them. Owner's suite was odd.