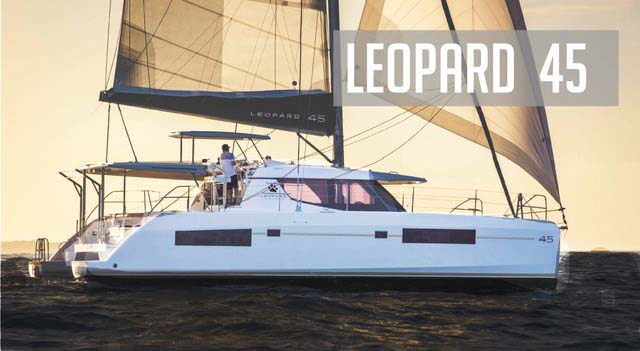 7 points
7.2 voter average
6 points
6.8 voter average
7 points
7.0 voter average
4 points
5.6 voter average
5 points
6.3 voter average
Great boat, affordable. Storage on a well equipped boat could be an issue.
Spent 5 days on the older Leopard 40, in the Whitsundays, Australia a couple of years ago. A charter boat. It had shower screens. Probably a good family boat, not too expensive.
Leopards are getting pricey for a production boat. I like the forward cockpit, but can't order a non-Lounge version anymore
With the top having the salon and the bow seating area this boat seems best suited for cruisers with limited funds.
In my opinion this is the best production boat under 50' available. I also think that fwd cockpit would be an asset.
Nicely laid out for cruising and live aboard. Open and airy feel to saloon and aft cockpit. Catamarans are basically sailing apartments and should look, feel, and be comfortable. Very clean lines gives the L45 a sleek and attractive appearance.
I love the front facing cockpit! Nick is obviously biased, ranting about this (leopards sail all over the world without problems). He also rants just about everything else that is not particular to leopards. So a very biased review.
Small trampoline and the new version with hard top lounge is becoming top heavy !
At this price point it gets no better.
When I looked at it on-line etc I thought it was just so so. Then I spent sometime on-board (4 of us) and it change my mind on its liveability. The flow really works day to day from forward cockpit to saloon to aft cockpit, helm station etc. As a live aboard it would be great especially at anchor in a nice bay. The only thing I would complain about is the aft cabin hatches. should be moved further out so they can catch the breeze.
This has become my benchmark boat. It seems to do everything well, even if it's not the best at any one thing. I think the forward cockpit issue has been more than settled safety wise, and it is an inviting feature, My only concern is spotty warranty coverage from some of the sailing channels out there.
Looks to be solid but what about the forward cockpit??? Madness!
We have inspected both L45 and L50. Prefer the 50P.
Love the pass through forward area. Unfortunately just doesn't point well enough
The forward cockpit gets a lot of flak as being un-seaman like. I disagree because it is a great spot to prepare sails you will use on passage or to put sails that have misbehaved. Can't wait to see an electric version of this.
We own hull number 1 and love it! Our 2nd Leopard Catamaran. Would never go Lagoon.
Build quality of Leopards is well known and the new design features have made them a very attractive package.
Life raft placement is poor. Sail drives not protected. Lack of keel makes any upwind sailing impossible. Interior looks "cheap."
Maybe an interview with a delivery captain who has ocean crossing experience would be interesting.
Living on an L45 with family of 6. Love the design, the light, the space. Sounds like subjectively you don't, which is fine - we would never go for the old dark wood style, don't fancy living in a pub. The L45 is like pulling up your condo to the beach, which is 90% of the time.
Friend had 2 Leopard 47's, was in court with Leopard over the issues he had with both of them by the time he got the boats to Caribbean. Cannot trust this manufacturer. Would only buy a tried, tested, surveyed 2nd hand.
best quality boat outdoor for the money.
High, less accessible boom w/ high center of effort, one cockpit, mediocre performance, lackluster interior materials and finish, wet bathroom. Charter Market Fare.t
We really like the forward facing cockpit, we don't like the thick door. A sliding door, we feel, would be better.
I know the forward facing cockpit seems like a waste, but I like the added shade and I am not sure how much usable space they could add to the cabin by reclaiming the forward cockpit. I like the other newer production cats of this size, I like the elevated helm station but like the FP design more.
Love the layout and design but the quality and the materials are lacking. I agree the steering system alone is abysmal at best.
We really like the forward facing galley, and the saloon seating that essentially becomes one big room with the cockpit. You note forward cockpit is only good when at anchor, yet you admit being at anchor 90% of the time. How about interview with delivery captain who has made ocean crossings?