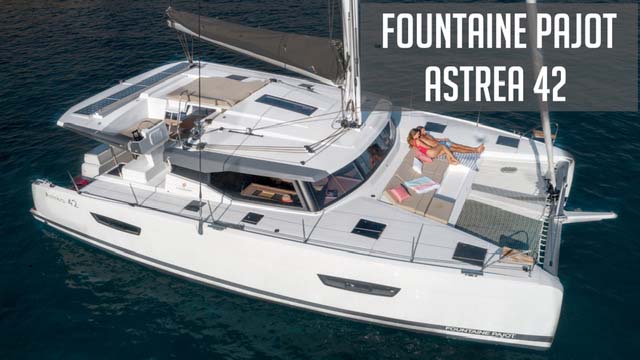 6 points
5.9 voter average
4 points
5.1 voter average
8 points
6.8 voter average
4 points
5.0 voter average
4 points
5.2 voter average
Worth about half the market value in my opinion, 4year old owners version in disgusting condition, sadly it's the cereal box of production catamarans.
Feel a little funny because I haven't seen the boat but from Nick's comments from what he's seen, I'd be a bit disappointed too. The steering would have to be engineered and signed off but you could be forgiven for wanting a little over engineering.
Having cabins share showers are brilliant
Flimsy build but pretty don't like sail drive astern of rudder
Curious if the new Elba 45 has addressed any of the quality concerns
Love the kitchen, very practical, though bit small overall
A very reasonable cat from builder with long pedigree in the business. Entry level allrounder that makes sense for seasonal usage..
Great boat and performance for your money.
Prefer the Lagoon at this price.
I really like this cat but am disappointed with many areas of it.
Beside build quality, you have not enough storage for a new family, Terysa. All wasted space on the inboard cabin's hulls instead of shelves and lockers. Go with Lagoon 46. There is a reason why they are the best selling cat brand.
Nick I screwed up the FP. Comment. It should have been a 32 and this one is correct.
from my experience (I sailed thousands of NM on the new range of FP boats) these boats are pretty durable and easy to sail and to handle, even in heavy weather and on passages
All This with Volvo standard engines. You will need the space to work on them and the steering rod ends! Nice look thought!
nice boat with good performance and good design . . .
The seats are great, the helm position is great, loads of room in engine bay but little touches let it down, no grab rails, flexable roof, finishing off places, you are correct about the rudder tube! would be good to know what you consider necessary to make a boat up to your liveable standard.
Too many issues with build quality & cheap components that would worry me as thinking about buying a 4-6 year old boat. How many things would I have to replace if quality is that low. Off the list.t
I don't feel like it is a quality product that will hold up to the demands. I would not feel safe crossing an ocean or the Gulf of Mexico.
For the base price I would expect a generator, I would also expect grab rails that extend forward beyond the cockpit. The lack of tie-rod ends on the steering is a major concern, I can see that Al tube shagging out on a long passage, the life raft placement is crap.
We did a sea trial, and discovered that it was just out of production (finishing touches not completed). Also, the life raft was designed to fit under the bench in the cockpit (with hatch opening to sea), but was put under the ladder for the show. Sailed well in 3kt winds. We really liked it.
Looks nice from far but when you get closer, disappoints on to many levels. Built to a price on all levels meaning major investments to convert to ocean sailing environment.
I would not feel safe crossing an ocean on that. If that steering system and the back flapping around like that, wear else have they cheapened out on that boat. Big big no no for me. As always great review from you guys.
I agree with "prettiest boat." I'm SHOCKED at the life raft placement. Also surprised by the poor build quality; seems to be less robust than the Helia. I hate the swim platform; too much added weight, too much added complexity and expensive. I like the Leopard dinghy lift system.
Safety: 4, mainly because of: the missing handrail, life raft position and sharp edges under the sink. Interior design: 9 we love the colour and the look of the interior and bed- and bathrooms. Value for money: 7 In comparison to other cats this is a fine prince.
High, less accessible boom w/ high center of effort, lack of rails, poor self steering gear, one cockpit, mediocre performance, poor interior materials and finish, wet bathroom
While some sailors love the design, we just cannot get comfortable single-handing the new FPs with the helm "disconnected" from the winches, lines and sheets. Something about having to use autopilot to step away from the helm to tack is disconcerting.