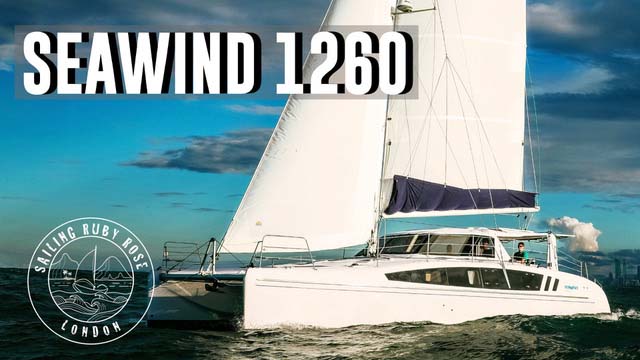 Seawind 1260
9 points
7.1 voter average
8 points
6.8 voter average
7 points
6.2 voter average
7 points
6.9 voter average
7 points
7.1 voter average
iF yOU WANT TO BE INDEPENDENT FOR MORE THAN ONE MONTH, YOU USE THE SMALLER GUESTBEDSPACE FOR LITTLE WORKSHOP EN STOWAGE SPACE
Safe, fast, reasonably priced, cleverly designed as a yacht for true blue-water cruising.
Perfect blue water cruiser for a couple.
This boat closer to 45 feet would be a winner
Not against galley down, but it forces guest head forward, just a bit too small
For the money and fully equipped I think this would be a great blue water cruiser for a couple and a child
A tad on the small side and I don't like the lifting door.
Good day sailer avoid at night.
No other manufacturer has a Catamaran with this safety record, build quality, sailor friendly innovations and performance for anywhere near this price. This is not just a Catamaran that ordinary foke can afford to buy new, but one they'd love to own anyway. This enables non pensioners to live their dream much earlier than they thought possible!
Cons: Claustrophobic bed with no room between bed and ceiling (not enough missionary shag room, someones going to hit their head). Down kitchen isolated, have to carry food/plates up down.
Just a great all around ocean sailer.
Been at the top of my list for a long time. Huge value for those of us wanting a quality boat with excellent sailing characteristics and a smart and safe layout.
Superb blue water performance cruiser
Really like this one, just a little too small, Tri-fold door is a bit gimmicky. Galley down not prevents a central located head in guest hull
great value and well thought out. Question - is helm view okay through th cabin?
One of the few cats that an average hard working couple could achieve - not just vicarious living.
Value for money is outstanding and should be weighted more heavily. This is a boat that is, above all else, simple and sensible.
Only let down is storage space, wonder if you could outfit storage, in the third cabin?!
Raised births are a no go, think about it when your significant other is riding you they need enough head room to bounce, the only thing they should be banging their head against is the headboard not the ceiling...