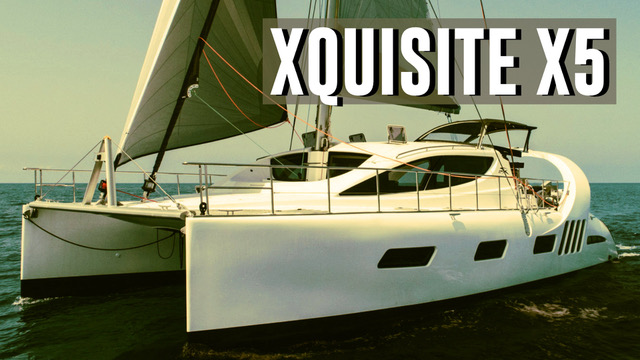 10 points
8.2 voter average
10 points
8.5 voter average
10 points
7.8 voter average
2 points
5.3 voter average
6 points
6.1 voter average
This should be a better performing boat than Nick and Terysa suggest. The weight listed is fully loaded. Hills are narrow and construction is light.
I love the shape of it. Looks comfortable. Easy to manage.
I fall in love with this boat I loved the design
I love the style of it. It has a comfortable and practical interior
It was very well made boat and the way they built it was different than the others in ways I felt like I am home
Love, love, love the inside wood. Hate the velvet coverings on the walls. Too big for a (european) couple.
I just dont like to overall look of this boat
Love everything ab out this boat!
I agree too much reliance on techie stuff and I don't like the beds without some walkaround abilityu.
Needs a hard top option over the helm station.
My ultimate favourite Catamaran. I may seem biased, went to Annapolis to deliberately see the Xquisite but found it more impressive than just the YouTube videos and factory tour. Ruby Rose giving it a 3/10 for performance I comparison to others in its class I felt was unfair.
Absolutely superb. Perhaps only "negative" is the styling
Just a good solid boat...promise as I'm part of the build team
You have to like the look! I don't
Would be so much better if it was not so ugly
just can not get my head around the design or style. The best is the system designs.
Beautiful design with a lot of thought and time gone into it
How can you consider world cruising in a boat controlled by computers and cooled by 5 air conditioners. Lose the electronics, air conditioning and redesign the over the top arch and you would save tons and improve the performance.
This boat appears to built to last and comfortable to live aboard for a long time.
I'm very impressed with the testimonials about how thru stand behind their product, and have cloud-based maintenance records and predictive failure diagnositcs. This isa paradigm shift in this industry and more like a luxury car concierge service.. I like the space age design. And the optional tool kit!
If it wasn't for the truly horrible looks, this would be an awesome catamaran.
Excellent value and quality. The look and performance are not compatible: Looks fast but isn't.
Love your channel, LOVE THIS BOAT. Stay Safe friends!
Sunreef 50 and 60 could give better scores
Wish I had enough organs to sell in order to buy this!
As you said Nick, ATTENTION to DETAIL!
I believe this is best for buck what you can possibly gate for a family live aboard cat.
This boat isn't meant to be a performance boat but a cruiser ... And you get what you pay for !!
Beaitiful Boat but would prefer walk around Berths
Simply the best engineered catamaran on the planet. As you said, attention to detailed optimized the end product! Well done, Tamas!
Very high quality, safe and comfortable blue water cruiser. Excellent aftersales care.
From the video review looks like headroom in the saloon would be an issue for taller folks.
A recent teat sail from South Africa to the US showed that this cat is capable of reasonable performance especially with the big headsails out. You get a lot of boat and a lot of extras with the X5 that other manufacturers are still to compete with, amazing service for a start.