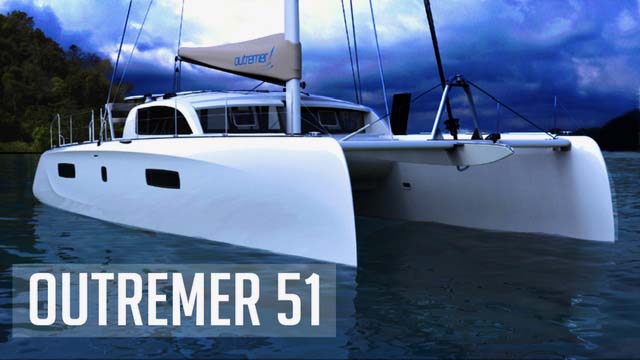 8 points
6.9 voter average
10 points
7.6 voter average
9 points
6.4 voter average
8 points
8.1 voter average
5 points
5.0 voter average
Expensive but amazing use of space for a performance catamaran, just wish it was more affordable.
Fast bare bones not the most comfortable live aboard
One of the most over rated brands/boats. Kitchen is tiny for the boat size, I agree that the helm is exposed and creates complications.
Ticks so many boxes for a blue water cruiser
Seeing Riley in a full weather suit for a mild rain and that engine access are big turnoffs. Nick was way too easy on this point
As such, this is the catamaran I would own to ply the Great Lakes in Ontario and beyond.
Unprotected helm, hob in galley too near stairs and dangerous location
Not looking for performance but comfort - hulls too narrow
Love the builder just not crazy about the layout
A few small niggles! Lack of proper twin helm, access to engine and the galley (one step back and you fall down the stb steps! but great looking boat, solid and fast
Interior room is just to small for a boat of this size. The living area is tiny.
the cockpit is old school. Lets it down in a big way.
The salon is too small for my liking
Definitely the best looking production cat out there and with its heart in the right place - light and fast while still providing enough comfort for long distance cruising
Didnt like the front windows reset back in
7/10 pour le rapport qualit prix car sur le marché de l'occasion les outremer 51 partent vite !
90% of the time you are moored as a liveaboard so the interior space/storage/design should be rated much higher its only 10% of the time performance plays a part.
top boat for blue water. you pay a lot for a minimum of space. But it's a Ferrari and ferrari is expensive
We also saw this boat at Grande Motte show. Overall best boat in every aspect if you want a performance oriented cat
We are live aboard on a 51. After 2 years we still are impressed with the boat. We have a permanent grin on our faces by now. We out point all cats so far and most mono. With 2 onboard, it is an easy boat to handle. The helm station needs a deeper seat. Armrests would be a nuisance in my view.
Exposed helms, hazardous mechanical compartment access, little storage, weight sensitive, small galley. But FAST and supremely well built
I was at LGM too, and took the tour of the Outremer factory. I got a test sail on the 51. Very nice and fast boat. I'd be interested in your review of the Catana 53.
Exposed helm, Treacherous engine bay access, exposed galley, not enough port hole ventilation
One thing i don't like is the fact you need to step down into the cockpit, lot of climbing in/out to access the decks, besides that...this is going to be my choice even for sailing in the Baltic and up further north...
As everyone say you spend 90% on your time as a live aboard on the hook/buoy/mooring etc. so performance is only to be measured for 10% of the time. Therefore the weighting on the other categories should be higher.
Unprotected helm station makes it a no go
not a live aboard but great for speed!
We cannot get passed the exposed helm, sorry.
It could be exceptional if they concentated more on space (especially galley) and less on performance
If living aboard: wasted space with aft helm seats, undersized galley and minimal cupboards/wardrobe would make me start hating this boat. As you say, you give up to much livable space to maximize the 10% of time you are sailing
This boats helm station is very unsafe
Needs a protected and covered Helm. I agree the kitchen is adequate but small.
A perfect compromise of space, performance and finish at a reasonable price point executed with style and attention to detail
A bit small-ish but still the dream boat 1
Engine access, exposed cockpit. A faster boat is a safer boat. Filled conduits/life raft position are indicative of a mindset. Low boom= better COE/stability/safety.